Man on the Move: A Few Things Beyond the Suit and Tie
Flashback to the year 2014, a time where the whole suit and sneaker look was an eye-catching sight of personal style. That year Public School's Dao-Yi Chow and Maxwell Osborne took their trainers to the CFDA's red carpet, as they received the Menswear Designer of the Year and Jason Sudeikis paired his platform sneakers with a tuxedo to the Met Gala. A year later, their efforts completely stormed the fashion scene. It was a sight so shocking that it actually became a good idea, to the point where the look is now frequent and styled without a second thought. How then, does one recreate the standard suit and tie? Let your feet guide your path.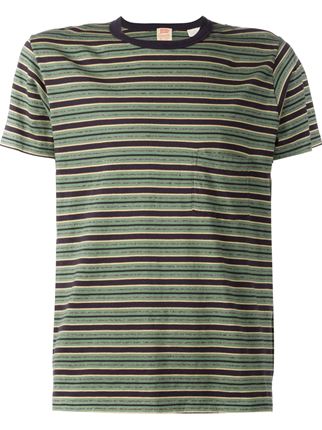 Style Advice: The key to consistently dressing sharp and looking smart is unlocked by an impeccably fitted suit paired with slick pair of shoes. It is as simple as that! Berluti's Spring 2016 Collection was a formal affair far from a snooze fest. For this collection, designer Alessandro Sartori carried the sunshine through keen colors that excited a standard of trousers, button-downs and blazers. As compelling as these pieces appeared, they could not stand complete without the perfect pair of shoes.
Re-create similar sensibility with an Indochino custom made suit. The Lake Blue Cotton Suit ($499) is designed with comfort in mind. This 100 percent cotton uniform is suitable for the heat and its color as electric as the sun. When hunting for a summer suit consider investing with Indochino. This brand will create your very own suit, tailored to your needs.
When considering shoes and accessories, embrace the vintage: it is now in style. The trendy and ever classic Originals Stan Smith ($75) will always be an ideal fit. Its influence on street style will remain. Just like Vans, the California skater brand rides on the success of simple footwear. Flaunt your cool footwear with Vans Sport Old Skool style ($55). In fact, this style was the first to launch Van's branded stripe on its shoes. In the end, this leather and suede combination has a lesson in fashion to share: tradition is far from boring. It will never go out of style. The most desirable form of vintage comes in its superior form: a vintage t-shirt. The whole "one of a kind" feeds its interest. A resurgence of Levi's heritage reapears with its 1960s striped T-shirt ($99), a simple, unassuming and easy-to-wear tee. After all, that is what we love most about its style, baby its classic.
Update your right hand bag to a sportier style with Filson's Medium Dry Duffle Bag ($160). This polyester, vinly-covered bag will practically transport you through various parts of the day. From the office to the gym and travels beyond, Filson, an American heritage brand, settled on the premise of resilient products. This dedication established its longevity. The West Coast brand's commitment to quality, it has set a standard in the accessories department.
Must-have: What exactly is the FBT PRIME ($715)? Is it a moccasin, a loafer, could it be a sneaker? Call a hybrid, somewhere in between? Whatever it may be, Visvim's lead designer Hiroki Nakamura is a pure genius. In a time when the menswear industry becomes increasingly experimental, the FBT should be celebrated. Shoes few and far in between — if any— compare. Its Vibram outsole speaks to its durability while its vegetable-tanned cow suede upper will have you feeling naturally up-to-date. This is the new shoe to test with your suit and tie.
Industry Update: It is official: Frenchman Christophe Lemaire has joined the Uniqlo team. As the Business of Fashion exclusively reported late last week, Mr. Lemaire will lead Uniqlo's design team to focus that one and only product the customer needs — is shopping for. This recent gain offers a venture into a new perspective on lifestyle clothing. Lemaire will spearhead a new line, "U," for the Japanese brand. "U" represents a group of designers, Lemaire as their lead, creating with the intent to make the most simplest needs attractive and to provide for them. Once again fashion has found another way to recreate itself. The best is yet to come.