Take a trip to the financial district in NYC, and Wall Street is littered with strapping, successful, professional men in suits and then you see it: the ultimate fashion no-no: sport leisure sunglasses. Men flock to stores like Nike and Oakley to purchase these sunglasses. However, the combination of athletic and business attire seems to clash. Now, there is nothing wrong with these sunglasses. They seem to be appropriate to wear when men engage in hobbies like mountain biking, hiking, jogging, golfing and playing baseball. However,when donning a crisp suit and tie, this accessory does not fit the look.
In the professional world of expensive suits, ties and shoes men are known for dressing sharp. Appearance acts as one of the first things clients notice when meeting to conduct business. The single accessory of sport leisure sunglasses makes a bold statement. A structured business suit and bright color tinted sunglasses doesn't seem to scream "serious businessman." Color-tinted lenses should be avoided when wearing office wear. Professional men should want clients to take them seriously; therefore an appropriate pair of glasses must mesh well with the suit, creating a distinguished look.
In most professions a conservative suit is required for business attire. Nowadays, most men would rather be wearing comfortable clothes. The sports sunglasses seem to be the way that men keep some type of casual attire. Why wouldn't they want to be styling, wearing shades that make them look like they are straight out of a menswear advertisement? Some shades fit business wear, but certainly not all of them. Men need to be steered in the right direction when it comes to sunglasses and what's appropriate to wear with professional dresswear.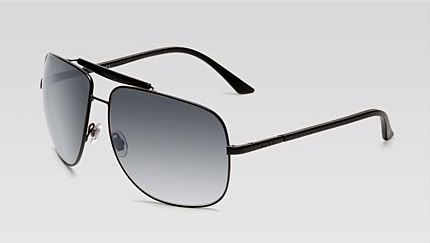 From left to right: Gucci $295; Ray-Ban's Original Wayfarer: $145.

For a more sophisticated pair of sunglasses, designers like Gucci have created their own sunglasses for men. Gucci offers both sports sunglasses and stylish formal sunglasses. A specific formal style that looks dashing with formal attire are the Gucci medium aviator sunglasses. This is a good approach to looking classy, stylish and professional, while protecting your eyes from harmful UV rays. Not only do these glasses have dark gray lenses that would look classic with a black or gray suit but aviator style sunglasses can easily fit most men's faces.
However, Gucci is not the only designer that has created stylish sunglasses for men. Well- known sunglass brand Ray-Ban provides various options for casual, yet formal, sunglasses. For a simple effect, plain black Ray-Ban Original Wayfarer Sunglasses are the proper choice. It can add a pop of swagger to the perfectly coordinated men's business suit. These particular sunglasses create a simple look that is still stylish. Original Ray-Ban sunglasses are recognized as a symbol of fashion, youth and creativity.
Stylish accessories and clothes can raise one's public fashion status. But in order for them to do that, men should avoid wearing colorful sunglasses when dressed formally. Avoid embarrassment and do not wear colorful sports lenses that leave you looking like a clown. Embrace your inner man and sport formal sunglasses. Wear sunglasses that not only leave you turning heads and making positive, lasting impressions but also leave you appearing like a debonair.