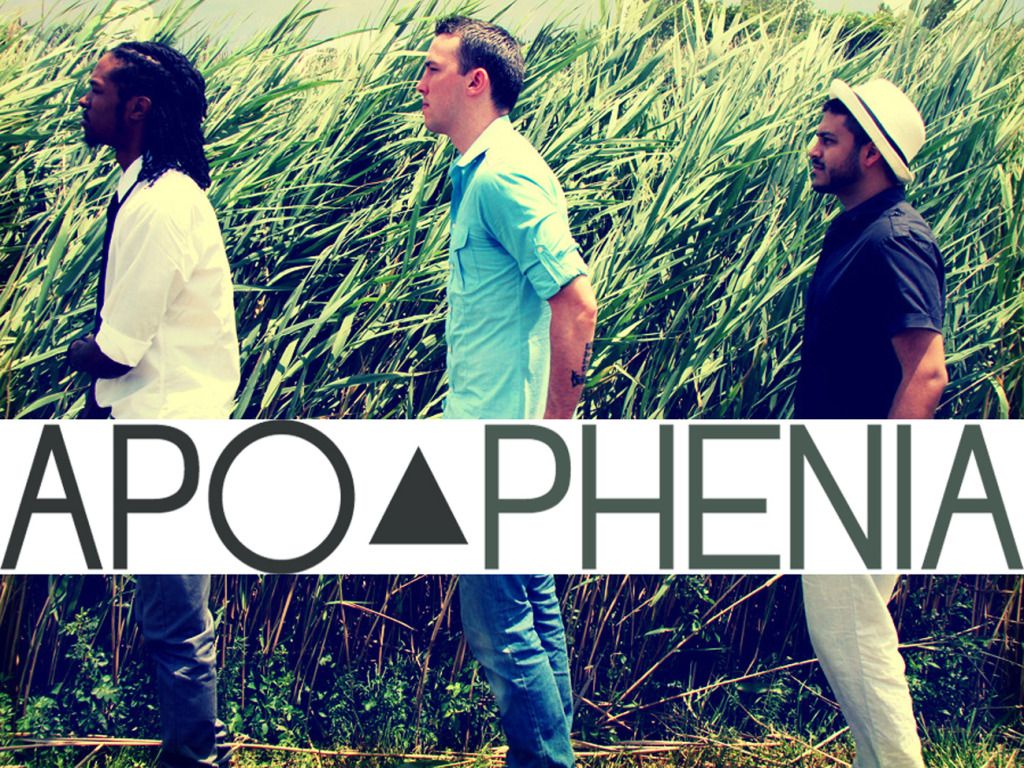 If you are looking for a fresh, original and dedicated band to serenade your ears and save them from all that noise pollution, than look no further than Apophenia. With group members as original and unexpected as the band name, it should come as no surprise that this band's unique sound is catching the attention of listeners all over.
I was fortunate enough to get the chance to ask this group a few questions about their band and themselves. The answers I received are truly some of the most entertaining and honest answers I have ever had the pleasure of reading.
Take a look below and get to know the guys of Apophenia, because they are sure to bring a smile to your face.

Blaize Stewart: How long have you been involved with music and how has it had a major influence on all of your lives?
Nadeem Ahmed: Well, thank you for having us! I'm Nadeem and I play guitar in the band, as well as run a company called E9productions, by whom we are represented.
Charles Norris: Hey, this is Charles Norris III and I play drums.
Jason Norris: Jason Norris here on Keys; I run the laptop and sing harmonies.
Eugene Rogers: Hello-hello, I'm Eugene Rogers and I play bass, and also do harmonies.
Seamus Kerley: Hey this is Seamus Kerley and I'm the lead vocalist and guitarist for the band.
Nadeem Ahmed: We've all been in a particular form of musical training from early childhood. Charles "Trey" Norris, our drummer, started at the age of 3; his brother Jason as well both Pastor kids were consumed with music, as well as Eugene Rogers. Seamus's first instrument was the saxophone and mine was the trumpet. I can speak for myself and say it was an outlet that developed my creative thinking and well-being in a town where kids were doing hoards of illegal activities!
BS: How did you come to form the band Apophenia?
SK: Apophenia started when Nadeem introduced Trey and our original bassist (also named Charles) to me. Trey, who hadn't completely healed from a car accident (one of too many he's had) [band laughs], played drums in a cast in his basement.... Yes, that's right, an arm slink, in West Hempstead Long Island.
NA: We were all a little skeptical... here came out a skinny kid in a ghetto town with an arm slink, we didn't know what to expect, nor what we were walking into! But that's actually a lot of what this band represents; we're from very different walks of life...
CN: The music between us, from that first meet-and-play till today, has unremarkably been an instant thing for us. I was looking for something outside the church; to bring everything I have grown up learning to...I think we have had it in the stars for us to meet, to play, and to create. To avoid some kind of cliché though, it's really true, even more after all the years, and collaborations or working with other music acts in our separate perspective music careers...That we got to a language of our own here that's 6-plus years in the making.
JN: Silent communication.
BS: What is the meaning of Apophenia and how does it relate to your music?
SK: Ha-ha, yeah, we get that a lot, and in just like our last interview on Verizon Fios, we all just look at Deem, ha-ha, but that's because when Deem and I first met, we actually were performing open mics before the rest of the group came into the picture...It was at one of my favorite venues in Long Island, The Downtown (that's now defunct) that we were asked what our band name was before hitting the stage. We choose Apophenia that night because it was literally the best name we had on our list...Sure do wish I remembered what else was on that list, though!
NA: "The propensity to see connections between seemingly unrelated objects or ideas links psychosis to creativity...Apophenia and creativity may even be seen as two sides of the same coin. Basically, insanity and genius go hand in hand."
CN: MIND BLOWN.
NA: Ha-ha, it's amazing, and somehow organically it destined our music to evolve with that type of duality and creative flow. Like the power of free speech association, it kind of goes back to what Trey said about our form of communication being filtered through music; it's what makes our music so great. We know each other better through playing music than even speaking!
The link with our band name can be seen in all of our art as well. The cover to our debut album was done by artist Egor Shapovalov, and features a lone man walking on a path that seems to look like a triangle (which we feature as our logo on t-shirts) and a raven flying overhead. Which, to me, I love the spiritual meaning as a creature of metamorphosis, and symbolizes change/transformation.
BS: What bands have influenced your music?
NA: I'm three parts Indie pop, classical guitar, and ambient. Edward Sharpe and the Magnetic Zero's, Django Reinhardt, and Zero7.
BS: Now take us back to your very first performance.  How did it go?  
SK: Pretty good, also at The Downtown, although our first extended gig was in Nadeem's Garage at a huge house party we threw, followed by an "official" gig at The Purple Frog pub in Lynbrook. Which shows how far we've come from there to having our band name on the Marquee of Gramercy Theatre in April.
BS: In a world where there is a sea of bands trying to get their music heard, what do you think differentiates yourself from others and what effect has that had on your success?
CN: Well, we all are involved with the music industry. Music is what we do for a living. So if it's playing for other artists as musicians on tour or in the studio, we do it all so that we can come back to write music in Apophenia. I think we attract people to Apophenia through our work ethic as musicians. Which I don't know many other bands doing. It's been a kind of carefully guided road to success that's starting to see results.
SK: As far as trying to get our music heard, I don't see a difference. Every band I've ever met has always seen eye to eye on that. We want fans, we want to be loved, and we want to stand for something. The thing that differentiates us from the others, however, has to be the work ethic. We want this, badly. We live for it.
BS: All the songs seem to have very meaningful lyrics and it made me wonder if you write all your own songs? If so, where do you find inspiration from?
SK: Everything I do in my personal life kind of accidentally shines through in my lyrics. Whether it's a sad breakup or one of my favorite TV shows, it always comes back to who I am off stage. Which is usually...a gamer, a wise ass, and handsome.
BS: While collaboration is necessary in any job, do you feel like you have had to compromise any of your original ideas to make it?
NA: Never have we done anything outside our compass. We've had some bad experiences with a few, but that's to be expected in the industry. We're resilient. When someone or something goes against your vision or beliefs, you just walk away; there's nothing difficult about that, and no fear in that. It's that kind of attitude you need to keep to keep your bearings as a band; there will be many people that try to lure you with easy results to stardom, but anyone knows that's foolish. Nothing good comes easy.
BS: How do you guys make sure you stay original and unique?
SK: That has to be the easiest part of what we do. We are all so very different individually in our own lives and tastes that each member's personality comes through in every song. It's not so much that we "try" to stay original and unique; it's more that we are, just because we are. That's one of my favorite things about this group.
BS: Do you think your originality is a curse or a blessing?
SK: 5 years ago, I'd have said it's definitely a blessing. But I was naive then, ha-ha. Originality is rare. Which is to say that what is rare is valuable. However, that also means it's not easy to find. So, a little bit of both.
BS: It can be a struggle to break through into the entertainment industry, especially in music, so how do you guys persevere and stick with it? What makes it worth the struggle for you?
SK: For me, it's easy. In real life I'm a broke gamer who spends more time playing League of Legends than meeting girls. When I'm on stage, I'm a rock star. It doesn't matter if there are 4 people or 4,000. I'm addicted to the feeling.
NA: Well, art is a movement and a social circle that is taking part with that to shape the experience. It's almost fleeting and unreal, so really, when I look out and see familiar faces mixed with unfamiliar faces at a venue mouthing our lyrics, or a fan with the words "All in" tattooed to their body, it starts to hit you. That this transitory place you're standing in with these people isn't a struggle.
BS: How do you think your music fits into the industry? What kind of audience are you trying to attract?
SK: Indie music has exploded in the last decade. It's the music lover's revolution against pop radio and overdone rap. If you were to ask The Rolling Stones the same question in 1965, what do you think they would've told you? We're trying to attract everyone with ears. You like rap? So do I. Oh, you're into gospel? We got it covered. We are only here to make music and have fun. You in or out?
NA: I prefer the take it as it is approach, any of our explosive endings to our songs can attest to that.
BS: Thinking ahead to the future, where do you guys see your band heading?
SK: Forward. For us, it's always the next show, the next album, the next tour. Constant and consistent progress.
ER: TO INFINITY AND BEYOND!
BS: If there was one message you want listeners to take away after listening to your music, what would it be?
SK: That I want Firefly back on the air...and more importantly, that we're here to have fun. Do you want to have fun with us?
CN: That we're here to play like this is the last show, 'cuz honestly, you never know when anything will end; we treat music with that kind of urgency.
BS: Switching gears, critics often say that all music [today] sounds the same. Would you agree with that sentiment?
SK: I would agree that whoever said that isn't looking hard enough. Sure, everything on the radio sounds the same, but it has been that way for 50 years. Get off your ass and go on 8tracks or Spotify or something. You're welcome in advance for blowing your mind.
BS: If you could do a show with any band in the world, past and present, who would it be and why?
NA: Past As Tall As Lions, present Mutemath. Why? Because we'd be the sonic jelly to their peanut butter.
BS: If you could play anywhere in the world where would it be?
NA:  Japan
CN: Iceland
ER: Canada
JN: Sweden
SK: Right here in New York, and at The Garden
BS: What are you reading now?
NA: I'm about to start reading The Art of War, my best friend gave it to me for my birthday in April... Clearly I've gotten around to it.
BS: Theme song to your life?
SK: Thrice - Artist in the Ambulance
NA: Edward Sharpe and the Magnetic Zeros - Home
BS: What dose "man of the hour" mean to you?
NA: I'm pretty positive-minded so I'll say the dude who foots the bill, the dude that gets it done, or the best bro that has your back, ha-ha.
SK: Sounds pretty kinky, actually.
 ---------
For more on Apophenia, check out their website apopheniamusic.com to listen to their songs and purchase their self-titled debut album.
---------